Google Search Console is another free software tool from Google that allows you to see how your website is performing. Importantly, you need to set this up when you start up a new website and get that oh so precious data from the beginning of time. It's never too late to start but it's incredibly hard to make useful analysis without numbers ands whatnot to look at. It's free and takes about 15-20 minutes to set up – and a vital cog in the SEO machine!
There are two main things that are worth touching on for Google Search Console and that is because it really will save you tonnes of time to rather get an SEO type person, or a Webmaster (think of an all-round developer with years of experience, industry knowhow, and a Camel cigarette in his mouth… and some huskies by his side) to perform all the necessary things in half an hour. Your main two views to look at are:
A general overview

From here you can immediately see if there are any issues on your site, and if not, maybe just leave it all alone. If there is one, just dive in to the problem areas and follow the steps to fixing any issues. Google is generally really helpful in giving you step by step guides as to how to solve anything.
Your site's queries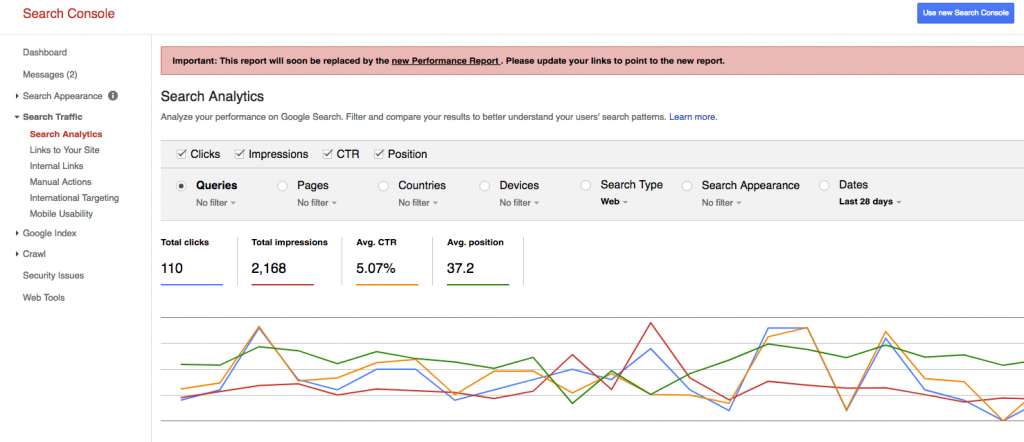 And this magical, colourful graph shows us exactly what we are looking for. How many people see an impression of our site? What position are we sitting for a keyword (eg. "cape town builder" is coming 5th). What % of those click through to it? All this free (thanks, Google!) data is incredibly helpful and that is why it is imported to Google Analytics, if you choose (and yes, do that) to link the two services/accounts. Just to reiterate why we are here in the first place: Google is the behemoth search engine and controls 80% of the western world's search traffic. For tonnes of reasons you need to be performing well on Google to be seen online, and this tool (Google Search Console) will help you do that. In fact, it is provided by Google to help you and me do just that: tick all the proverbial boxes Google is looking for in websites so that their customers (people who perform searches) will find what they are looking for. Unlike U2, who are still searching. I wish they'd use Google…